Vote
(Total
1
Votes )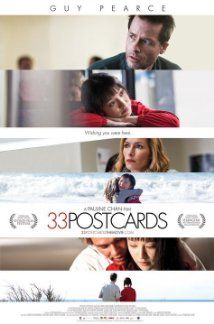 Movies:
33 Postcards
Director:
Pauline Chan
Cast:
Guy Pearce, Zhu Lin, Claudia Karvan
Production Co:
Portal Pictures, Zhejiang Hengdian Film Production
Genres:
Drama, Music
Runtime:
97 min
Country:
Australia, China
Release Date:
2011
Mei Mei (Zhu Lin) a 16 yr old Chinese orphan dreams of nothing more than being part of the 'perfect' family. When her orphanage travels to Australia to par-take in The Australian Choir Festival Mei Mei takes the opportunity to find her Australian Sponsor Dean Randall (Guy Pearce). However what she finds is far from what he depicted. Initially mismatched and disconnected the two begin a journey in search of belonging, family, redemption, love and acceptance...